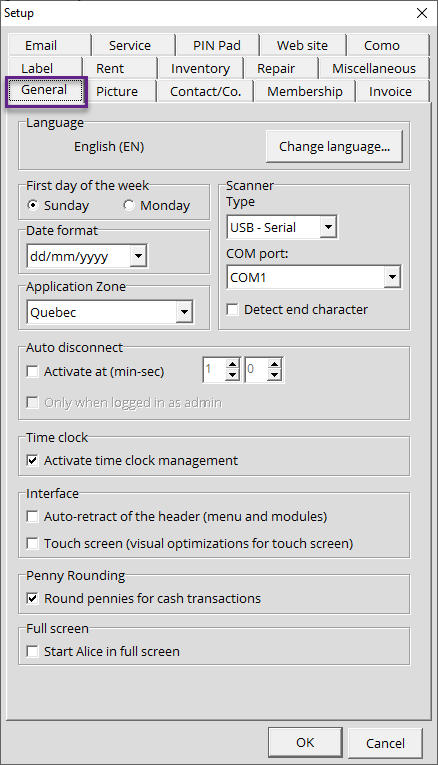 It is possible that after a Windows or an Alice POS update that the configuration that you previously entered in this section may be reset. If this happens, simply re-enter the information as it was before the update happened.
Language
Change language: This button allows you to change Alice POS' interface's language. It is available in French, English or Spanish. Please note that a reboot of Alice is necessary when switching language.
First day of the week
Lets you to set the first day of the week. This option is usually used for your company's payroll department, in terms of hours worked.
Date format
The drop-down menu allows you to choose the date format used in your country.
Scanner
This section will let you configure and setup the scanner attached to the workstation where Alice POS is installed.
Type: Select the type of connection used by your scanner from the drop-down menu: Standard, PS2, USB Serial or USB Hid. To find this information, please consult the scanner documentation.
COM Port: Devices such as scanners require the use of specific ports. You can specify it here by going to validating the port number in your Windows Device Manager.
Application Zone
Auto Disconnect
The automatic login controls your users' access.
Activate at (min-sec): If you enable this option, Alice POS will prompt the user to log in at the frequency set by the Administrator (every 10 minutes, 30 minutes, hours, etc.). We recommend enabling this for security purposes.
Only when logged in as admin: The setting above will only be applicable to Admin users of Alice POS.
Time Clock
You can use Alice POS as a timesheet by tracking yours and your employees' hours worked. This will make things easier for accounting to generate payrolls.
Activate time clock management: This will enable the tracking of hours worked. Your employees will be prompted to clock in when logging into Alice POS at the start of the day/shift. This is visible by the clock icon in the top right corner of your screen.
Interface
This section allows you to manage the appearance of Alice POS on your workstation.
Auto-retract of the header (Menu and modules) : Enabling this option will auto-hide the top of Alice POS which includes the module icons and menus. To access those functions, simply hover with the mouse on the top arrow in the top middle.
Touch screen (Visual optimizations for touch screen): If you use a tactile screen, this option allows you to enhance your user experience with Alice POS in touch mode. This is only for businesses using first-generation touch screens.
Penny rounding section
Round pennies for cash transactions This option allows you to round off the pennies for your cash transactions.
Full Screen
Allows you to launch Alice POS in full-screen mode.