Install the appropriate driver according to the supplier's instructions.
Launch Alice using a user with administration access.
Open the Configuration menu.
Go to the General tab.
In the Scanner section.
Select the Type and Port of your barcode scanner.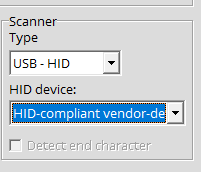 Here are the most common barcode scanners:
Voyager 1250G, Eclipse ES250A, Eclipse ES200BT Type: USB-Serial Port: COM3. The right COM Port should be automatically detected, if the scanner doesn't work, try a different port.
LS2208 Type: USB-Hid HID Device: HID-compliant vendor-defined device. You must find the right one, try each of them until you find the right one.
Once the scanner type has been selected, the port can be changed using the scanner button, it is located on the bottom right corner or in the main Alice window. This icon on the button also indicates the status of the configured scanner.