Alice POS also gives you the option to sell gift certificates. It's an additional way for you to generate income for your store. Here's how to proceed:
How to sell a gift card
Go to the Invoice module.
Select the customer you want to sell the gift card to.
Click the Gift Card quick pick button on the right of your screen.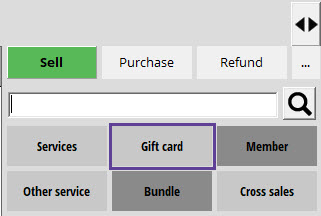 Make sure to select Alice under Card type. Add the amount of the gift card.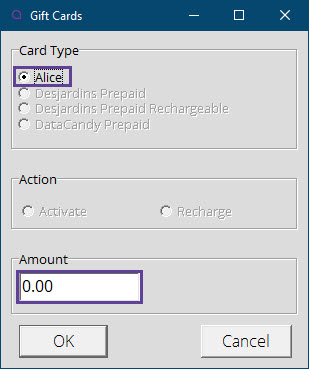 Finalize your transaction, print the customer's invoice and the gift receipt that your customer can give with the card.
Validate remaining balance on the gift card
Simply scan the customer's card. A window will display the remaining amount. If the card does not scan, you can search for it directly in the customer's profile or manually in the search bar by typing in the card number.
How to delete a gift card
You can personally manage gift cards that need to be removed from the system. To complete this operation, you must be a system administrator.
Go to Tools ==> Adjust a gift card balance.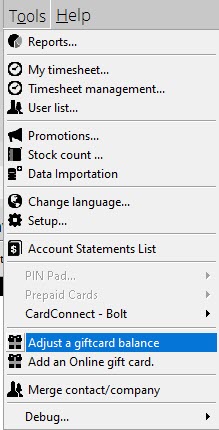 In the Adjust the balance window you must :

Scan the gift card or manually enter your gift card and search.
Enter the amount that you wish to remove from the gift card. It can be a partial or complete amount.

Click Apply to save the amount removed from the gift card.
Activate gift cards sold through an online store
You sell gift certificates through your online store and you want to manage it in Alice POS? No problem! We have a tool that allows you to create these gift certificates.
In the Tools menu
Select Add an Online gift card...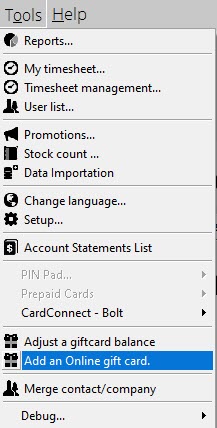 In the new window, under Gift Card number, you will have to enter, in order:

The prefix of your store
A period
The number of your gift certificate

All gift cards that you sell through Alice POS's Invoice module consist of your store's prefix, followed by a period (.) and a 6-digit sequential number. For example: SEC.658743
Add the amount to be added on the newly created gift certificate
Click OK and a label will be printed